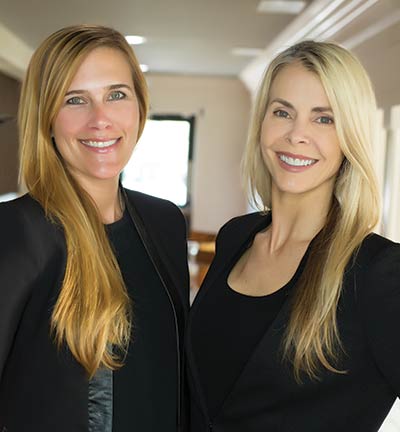 There is a well-known adage that the three most important words in real estate are location, location, location, but there are other critical components that contribute greatly to a successful real estate experience. Donna Webb and Heather Hamilton of Dunes Properties combine their skills as a team to provide a unique array of services unmatched by other Realtors® in the area. Their recent listing and sale of a record-breaking $7 million property on James Island, after just 11 days on the market and unsuccessful attempts by three other firms, shows the type of results their clients have come to expect.
Webb has always had a passion for the coast and returned to the Lowcountry 13 years ago after spending many years in Atlanta. She has been a licensed Realtor since 2001 and consistently earns the Realtor of Distinction award. Her business is generated almost entirely from referrals, indicating the strong satisfaction of her clients.
Hamilton is a native of Maryland and spent time in both New York City and Connecticut before arriving in the Charleston area. A diverse background with over 20 years of sales and marketing experience has allowed Hamilton to bring a variety of skills to her real estate practice.
These hard-working ladies answered a few questions about their team efforts for a successful outcome.
Since you each have your own clients, what type of real estate situation maximizes coordinating your individual skill sets?
We each bring a unique set of skills, but, most importantly, we bring results. Real estate is not a 9-to-5 job, and, sometimes, the around-the-clock service we offer takes both of us to make sure no detail is overlooked from start to finish.
When working with sellers, we use our successful 3D strategy — "Declutter, Depersonalize, Debut" — to get a home sold for the strongest price in the shortest time. Our full-service selling experience can include staging, personal-showing tactics, data reporting/analysis, and 360-degree marketing using professional photography, drone and lifestyle videography to connect with buyers. We don't focus on just selling homes — we specialize in selling a lifestyle.
What is key to supporting buyers in this market?
We do what we do best: We listen and guide buyers step by step through searching for the home or property to find the perfect match. We both share a passion for the Charleston coast and an intimate knowledge of local neighborhoods and communities. Presenting and negotiating an attractive offer is also invaluable in competitive neighborhoods. It is incredibly rewarding to help clients discover the quality of life they deserve in the neighborhood they love.
What do you want clients to know about Dunes Properties as a real estate entity, and what you can achieve collaboratively for those clients?
Dunes Properties has been in business for over 30 years but has maintained a small, family/work environment. The company culture is one of trust and collaboration, which gives us the power of five offices, over 60 agents (and 30 years!) at our fingertips.
By Eileen Casey