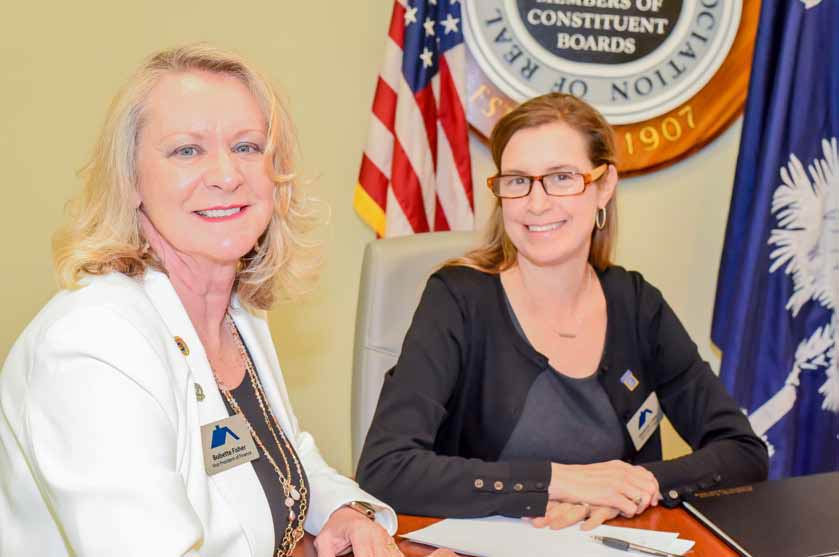 Women have a long history at the Charleston Trident Association of Realtors. From its early days to now, local ladies have worn many hats and served in various capacities, enhancing their real estate careers for the better. I had the chance to engage in conversation with two current top-tier ladies on the board: Kimberly Lease, 2018 president, and Bobette Fisher, vice president of finance. Both of them agreed that serving on the CTAR board has been a rewarding experience – much like their careers as a whole.
How long have you served on the board? What prompted you to do so?
Bobette: This is my fourth year on the board. The first three years I was a member of the board of directors; this year, I am serving on the Executive Committee as the vice president of finance.
I had previously served four years of leadership on the South Carolina chapter of the Council of Residential Specialists. My goal has always been to improve the professionalism of the industry by promoting extensive education. Upon completing that tenure, I was asked to consider serving our local association. I was flattered with the invitation; it is an awesome responsibility to serve the members of the Charleston Trident Association of Realtors and to support public property rights.
Kimberly: I have served for seven years. I believe that our industry needs Realtors that lead by example of what is ethically appropriate and what is in the best interests of our clients. In order to comply with the above, it is important to be involved with other Realtors in a professional manner, and I thought the Board would be a great place to accomplish that and also give back to all the Realtors in our area by volunteering to serve.
Explain how serving on the board has enriched your career in real estate.
Bobette: Serving the large membership has enriched my real estate career in many ways by understanding issues on a local, state and federal level that pertain to many public needs, such as national flood insurance, statewide HOA reform, local affordable housing, short-term rentals and much more.
Kimberly: Every day it helps me serve my clients better by being mindful of professionalism and teamwork.
How long have you been a real estate professional? What are your feelings on it?
Bobette: I've been a Realtor since 2002. Real estate is a wonderful full-time career; it requires extensive education to develop the skills necessary to properly advise clients who are making decisions to purchase one of the biggest assets in their portfolio.
Kimberly: 18 years. I feel lucky to have found a lifelong career where I get to bring joy to other peoples' lives on a daily basis. Home buying and selling is such an accomplishment for many people, and it comes with a huge sense of pride. I feel honored to be a part of that.
As a woman in real estate, please share whether you think this field is a good choice for women and why.
Bobette: Women can thrive in real estate. With careful planning, this career can provide flex-time to juggle other family responsibilities.
Kimberly: I think it is a wonderful opportunity for women. The sky is the limit, you are in charge of your own business and your success depends on you! You can tailor your business to fit your life needs.
Explain how taking on leadership roles can help women succeed.
Bobette: By taking on a leadership role, I am hopeful it will encourage or inspire other women who may not ordinarily volunteer to consider stepping up as well.
Kimberly: Leadership brings women together to a place where ideas and resources can be shared and with that comes an increased opportunity for success.
How has serving the board helped you solve challenges with your own real estate transactions?
Bobette: Especially while serving on the board, during the most challenging real estate transactions, I'm constantly reminded to continue to maintain a cool level of professionalism that is reflective of the Code of Ethics and best represents all 5,500 plus members of the association.
Kimberly: It makes me mindful of my role in representing an association of Realtors and reminds me to strive to work with my clients in a way that we both benefit – teamwork!
How often do you interact with fellow board members? With fellow association members?
Bobette: Fellow board members interact at least once per month but sometimes more frequently, depending on the issues at hand. We are professional colleagues and have a high level of respect for the time we each so freely give to support our association.
Kimberly: We interact on a monthly basis at our meetings but also outside of the board on various committees and social events. As for association members, we all are out in the market every day!
Will you continue to serve on the board? Explain.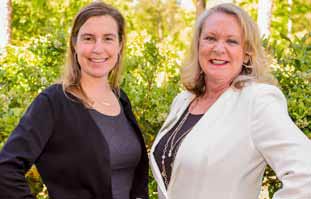 Bobette: Yes, I plan to continue serving on the Executive Committee for the next few years. Being involved to experience the end results from the relentless work that continues to be accomplished by the committee members and staff of the association has been one of the most rewarding aspects of my real estate career.
Kimberly: I am president this year so my term will end. However, I will serve as past president. I also hope to still be involved in different ways. I hope to continue to have an active role volunteering on committees at the association.
A History of Active Women at CTAR
"Women have been involved at the Charleston Trident Association of Realtors (CTAR) since the association's inception in 1907, with founding member Susan P. Frost, who was a preservationist. Jane Williams was the first female president, in 1980 and there have been seven female presidents since."
–CTAR Historian Teena Martindale.
"Women tend to be natural leaders, which is why we take an active role in encouraging our female members to pursue positions on our association and MLS leadership teams. We are proud to say that we strive for our leadership teams to be reflective of our membership in all ways. We have a long history of successful, strong and accomplished women who have led both of our organizations to where we are today."
–CTAR CEO Wil Riley.
By Denise K. James