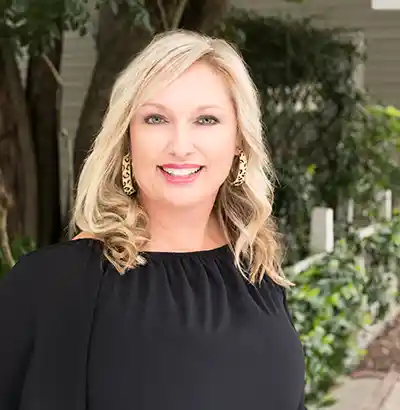 It's not a king's monarchy or high society club. King & Society Real Estate is one of the top real estate companies in the Charleston area. K&S Real Estate specializes in real estate sales as well as construction and property management. If you are in the Isle of Palms or Mount Pleasant area, then Misti Cox is your agent.
A Columbia native living in Charleston since 2014, Cox has transformed this industry. She received her license in 2008 but started off part-time as a stay-at-home mom. Her family eventually moved to Charleston, where she embarked upon a full-time real estate career. "I just loved looking at houses. I love the architecture and design of a house. I literally went to open houses to see how I can upgrade my own house. I love seeing new trends. Coming from a business background, I understood sales and real estate. It was very natural for me to jump into the world of real estate. I love it," said Cox.
Calling herself the "O.G." of King & Society Real Estate, Cox is not only an agent, but also manages K&S' offices under the leadership of founder Troy Barber. Cox has been working with Barber since he owned Tidewater Realty. She truly loves her career and assisting people on the journey to finding their dream home or upgrading their current one.
It's a good business to be a part of considering the number one change she has noticed in the Mount Pleasant area; you guessed it — growth. New developments and hosts of people are moving to the area, daily. "I get excited when I get to assist newcomers, people who have only visited this great city once or twice and decide 'hey I want this area as my new home city.' They are moving their entire family here. I let them know the coolest spots to visit, eat — and things to do," Cox remarked. The personal touch is what she is all about because at one point, Cox was in the same boat as newcomers.
The advice she would give to any woman wanting to join real estate is, "Everyone thinks going into real estate is an easy button; it's not. You must rely on your sphere of influence, your friends, family, your children's recreation sport teams and their parents — and lean on people to be your support system. Marketing and branding are very important. Partnering with a marketing team or someone like Bill, from Mount Pleasant Magazine, is key to your success. It's not cheap. You must look at this as your business. Remember, you are your own business."
When Cox isn't reigning as the queen of King & Society, she and her family love spending time by the ocean. "Being out on the water, there's nothing like it. I truly enjoy it, especially with my family." With that in mind, if you are in the market for an Isle of Palms dream home or hope to land that Mount Pleasant masterpiece, see Misti Cox today!
For more information, please visit KingAndSociety.com, or call 843-754-7826.
By Maurice J. Frazier
Read More:
Love of Charleston and Real Estate Made Becoming a Realtor an Easy Decision
Misti Cox Makes Sure Everything Goes Smoothly for Her Clients
Misti Cox: Meeting New People and Sharing Charleston Selling Homes
Friendly Smile, Love for the Community, Years of Real Estate Expertise
Laurel Cockfield and Misti Cox: The Go-to Dunes West Team