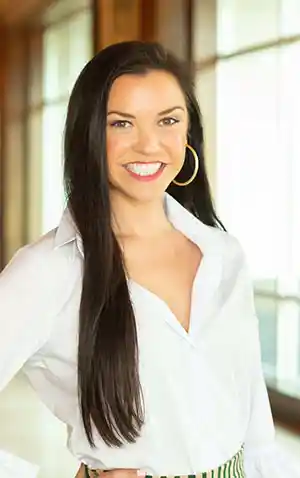 Rebecca Harwood Goode acknowledges the fast-paced and often hectic world we encounter on a daily basis and endeavors to provide clients with a customized, informed and successful path to their real estate ownership dreams.
Clients — from first-time buyers and sellers to seasoned investors — benefit from her knowledge of neighborhoods, local market conditions, mortgage option programs and strong work ethic.
Hailing from Ridgeway, South Carolina, Goode explained, "I wanted to be in real estate back in college because I was a Realtor's assistant and I enjoyed it. I decided to use my degree in early childhood education instead and pursued teaching. In 2019, after working in both education and sales, I found my way back to real estate and have always been with Coldwell Banker since making that decision."
Joining the ranks of those who have pursued a second career path in real estate, Goode revealed, "the tools, training, and support available at Coldwell Banker are why I'm there. I really love the company, and there is always someone available to help, advise and assist me if needed."
She added, "Buying and selling a home is an exciting and stressful time for clients, and I like to do everything I can to keep them informed, happy and at ease."
To learn more, call 803-518-2215, or email Rebecca.goode@cbcarolinas.com.
By Eileen Casey
Read More:
Q & A with Rebecca Goode of Coldwell Banker Realty