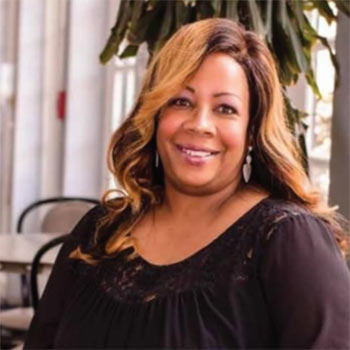 If you ever have the pleasure of meeting Roslyn Parker, affectionately known as just "Roz," then get ready for a relationship that goes beyond business. Get ready to meet someone who will send you shower gifts, introduce you to friends and send you birthday cards—she even sends gifts for your pets! Roz Parker, a broker associate with Keller- Williams and proud member of the National Association of Realtors, has recently built an empire and lingers among the top two percent of real estate agents in the nation. It's obviously because of who she is at the core: a friend.
The skill is there as well. Roz is an expert with calm and effective negotiating power; she's also a critical thinker. These attributes are just the icing on the cake. It is her humanity that allows her to relate with people first.
Perhaps her background as a Navy daughter readied her to connect with people from many walks of life. Born in San Diego, Parker lived in cities all up and down the west coast. Her family enjoyed residing abroad in Guam as well.
In her 20s, Parker relocated to the Detroit area for a church event, when a blind date led her to the man she'd eventually marry. She and her husband J. Hamilton eventually relocated to Atlanta, where she found her destiny in the field of real estate.
She and her family later settled in the Lowcountry, where she's thrived as a top-tier, award-winning producer. She especially connects with the many newcomers to the area and is wonderful at closing deals that stretch from state to state. In 2021 alone, she helped 62 families. It is no surprise she is designated as a Platinum Realtor of Distinction.
Parker credits her people skills to her late mother, who was one of 13 children. The well-traveled woman, who always became a central figure of her community, taught her daughter how to pour into others. Parker follows in her mother's footsteps by networking and giving back.
"I have a passion for the homeless," said Parker, "whether it's buying food or giving to the local food banks."
However, charity isn't the only place Parker invests in people. She also leads a Keller-Williams team called Luxe Properties Charleston, in which she serves as a steward for other agents. She hopes to build the team to "12 disciples of real estate." She currently leads four women, all building their businesses.
Parker is always giving. Her family—three children and her husband of 30 years—also beam with pride about her accomplishments. They see the matriarch of the family spending time focusing on clients before, during and long after deals are made. They don't see her obsessing over sales. They see her communicating with human beings.
"Her superpower is that she answers the phone," husband J. Hamilton Parker relayed. "It doesn't matter what time of day."
She answers. And that is her road less traveled by — the road paved by relationships.
For more information, call Roz Parker at 704-207-4275, or visit her on the web at roz.kwcharlestonsc.com.
By Lorna Hollifield