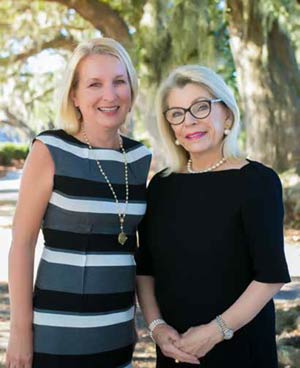 Working in real estate is competitive, and standing out is no easy feat, but one local real estate team makes it look easy!
Sally Castengera and Sharon Cassidy of Daniel Island Real Estate have been working together for almost two years and are now known as the Castengera-Cassidy Team.
Working with DIRE since the island developed 20 years ago, Castengera has consistently been a top selling agent. She is familiar with every home, building and business within the community and impresses with her energy and enthusiasm. Her referral base of happy homeowners has resulted in being recognized as a Charleston Top Producer for 16 of the 20 years she's been working in real estate.
"It's so important to make a connection with people," Castengera said. "I want to do all I can to help them have the confidence they are making the right decision."
Cassidy's story began in Pennsylvania, where she worked for many years as a sales agent for a national luxury home builder. After she and her husband, Michael, raised a family, they decided to move to Charleston.
While searching for a place to live, Cassidy discovered Daniel Island, admiring the "live, work, play" concept of the community and the beauty of the neighborhoods.
She soon met Castengera, and, after a couple of years working at DIRE, became her partner selling real estate. Cassidy's experience working for a national builder, selling in new communities and working as office manager at Coldwell Banker in Pennsylvania made her a qualified addition to the team.
"Not everyone can say this, but I love going to work every day," Cassidy said. "I have a real passion for this industry, and Sally is an amazing resource of information."
With the growth of Charleston, Cassidy said they now work off the island as well, helping clients find the perfect home.