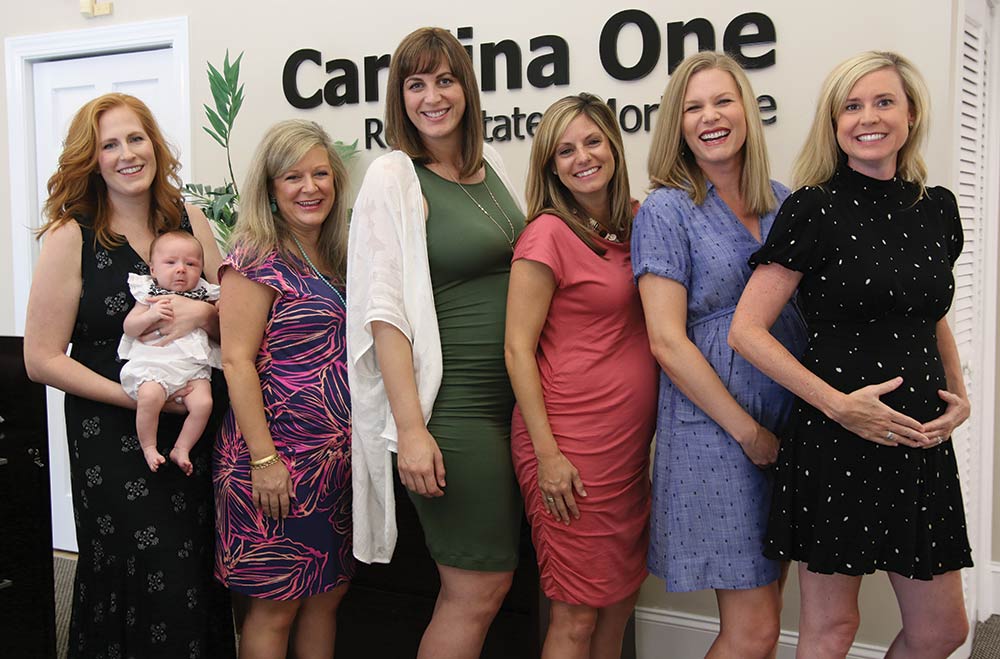 Six agents in one real estate office become first-time moms over the course of one year.
Sounds like a summary of a new Netflix series. The opening scene shows a woman closing deals on her phone and pans out so the viewers see she's in labor in the delivery room. The scene changes to another mom showing a house while bouncing up and down to shush her fussy baby who is strapped into a baby carrier. Viewers then see a woman at home pumping while reviewing contracts. A fourth scene change shows a mom trying to keep it together as she drops her babe at day care for the first time, and then a very pregnant woman huffs and puffs up the stairs at an open house; and lastly one more mom — to tie them all together — rocking her baby back to sleep in the dead of night and quietly sending a group text to the other five asking questions about her baby's acid reflux. And they all respond because they're still awake, too.
You'll laugh, you'll cry. You'll feel new respect for every working mom you know. But that's not Netflix's newest binge-worthy show — it's real life for six women in the Lowcountry. All that opening imagery is their reality, and, yes, those things really happened. There must be something in the water, as they say, at the Carolina One office on Coleman Boulevard, as these six real estate agents — Lara Schellenger, Cheryl Brannan, Christi Fabie, Sarah Yandle, Lauren Newman and Anna Gore — together experience the joys and challenges of balancing first-time motherhood with their careers.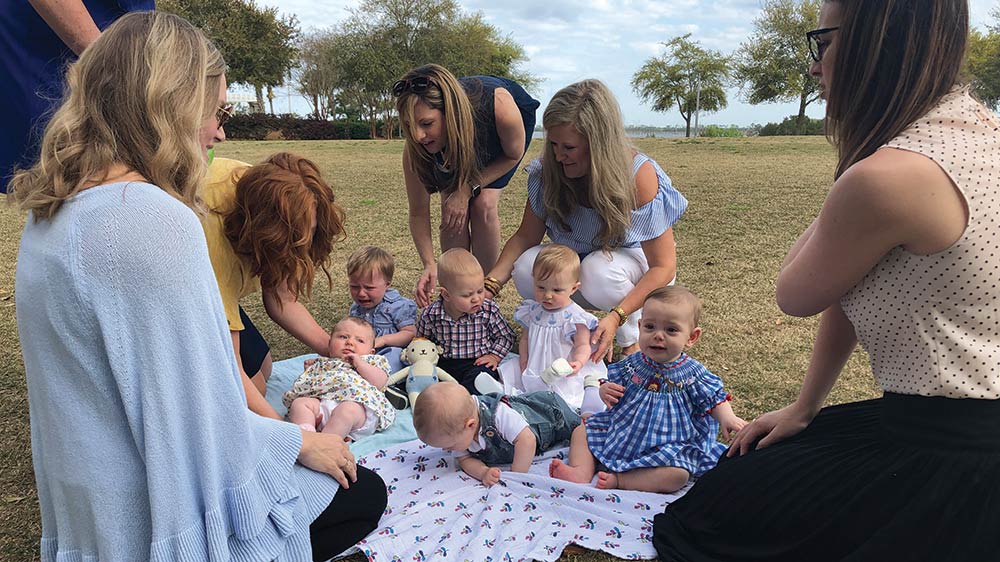 "That balance is really hard for any working mom, but the fact that all six of us are going through these things at the same time makes it really special," said Gore. "I know many new moms experience a sense of loneliness, and we're lucky to have each other to lean on."
As independent contractors, they do not have maternity leave. "You can't turn work off because you're constantly thinking of the schedule, calendar, timeline, dates in a contract that you can't ignore, inspections — you can't pretend that's not happening. Immediately you're a working mom from day one," said Yandle.
Several of them texted clients and made work calls from their hospital beds, and preplanning helped ease the transition in early postpartum days. "Before I went on maternity leave, I asked Anna Gore if she would cover for me for a few weeks," said Brannan. "She did, and, by the time Anna was ready to have her baby, I was able to cover for her and help while she took maternity leave. It all worked out very well. The service to our clients really never skipped a beat."
A positive that has blossomed is the collaboration between them when — under normal circumstances — they would be considered competitors. "In theory we should be competing against each other, but we're not. Now, we cover for each other because we all understand how hard it can be," Fabie explained.
One hurdle many of the moms came across was having to remind current and potential clients that they are not only back to work, but also eager to do so. The women leaned on the power of social media to push reminders that they are "Doing it all!" as Schellenger posted.
"This is our job and our livelihood," Gore expressed. "As a client, you are not impeding me as a mom; you are helping me do my job and support my family. Your business helps me be a mom."
Finding the right balance has not been easy, but these six agents have learned to plan smarter, prioritize and play the right roles at the right time — sometimes overlapping the two when acceptable.
"From a client perspective, their purchase or sale might be the largest thing they've ever done in their lives," said Gore. "Yes, I have a baby, but I can't forget about my clients because their lives and their happiness depend on me doing my job well."
As most working moms can relate, there are times when you have no choice but to wear both hats. Yandle recalled a day when she had to bring her son to four closings. "He played on the floor under the desks and flirted with people. Strangers were passing him around the table," she laughed. "In real estate, you want to be focused on your client, but, in many cases, you have built a relationship with them where they genuinely care about your personal life. We're not so corporate-world minded that we can't bring our kids with us when it's a necessity."
Overwhelmingly, the agents returned to their careers not only to support their families but because they truly enjoy it. "The best part about our job is helping others find a place to call home. Oftentimes, that includes a place to make memories with their children and grandchildren. Having a family of my own has made me realize just how important home can be and has made my job more fulfilling," Newman smiled.
"The best part is that I can be a role model to my daughter," added Schellenger. "By setting priorities, I can have a successful business and marriage and be a good, supportive mom."
The six women feel closer now. "In real estate, you work strange hours and sometimes have to drop everything to make a deal work, so it's nice to have support and talk about how to manage your business and new motherhood," Brannan said.
These ladies work hard to be both good moms and successful agents for their clients, and their dedication to both shows. "There's a running joke in real estate that if you're ever slow, plan a trip, because everything will happen when you need time off," laughed Gore. "Now the new saying in our office is, 'Have a baby, and your career will take off.' You look at the numbers and say, 'Wow! I did this with a 5-week-old while breastfeeding. I am woman.' That's awesome. That's why you feel proud. It makes you feel like a supermom."
By Anne Shuler Toole