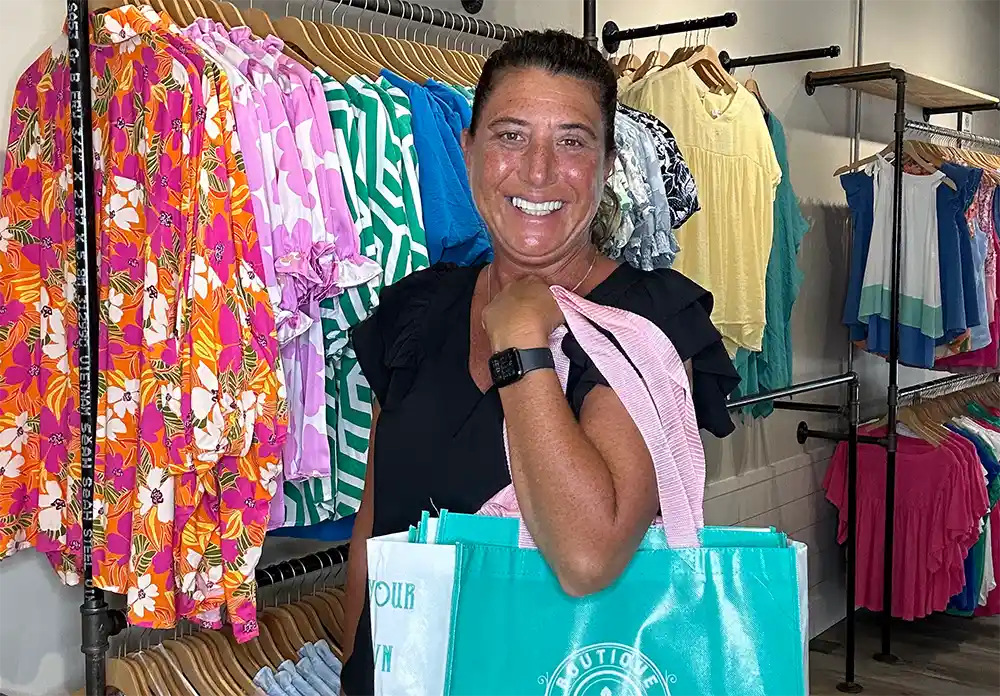 Having suffered from depression her entire life, Dawn Drucker found that retail therapy within moderation was an outlet for lifting her spirits and boosting her mood. But coming to South Carolina from New Jersey, she found shopping for stylish, yet comfortable and affordable clothing, to be difficult. That's when she decided to fix the issue, while also bringing happiness to others.
Following her dream to open her own boutique, Drucker founded Simply Country Chic Boutique, located on the beautiful square of downtown Summerville. At Simply Country Chic Boutique, north meets south in a collection of fashionable clothing for women and men. Priced modestly so that everyone can shop there, it's important to Drucker for her clientele to feel that their experience is as fun as if they were shopping in a friend's closet while sipping on mimosas (which they offer every Saturday). Drucker is also brutally honest and refuses to sell something to a customer if it doesn't look right. She doesn't care if browsers don't buy anything; she just enjoys meeting and visiting with people from all walks of life.
As her own worst critic, Drucker says that she second-guesses every decision when it comes to her selection process for the clothing she carries. That's why she carefully chooses collections that are different than what she or her clients would find in any other store. Moreover, she doesn't cater to one particular age group. When she is creating her next line, she asks herself, "Would I wear this in my 20s, 30s, 40s, 50s or beyond?" If the answer is yes for any and every age, then she feels like other people would wear it, too. However, she never orders the same thing twice, even when a line sells out quickly. Rather, she orders two of each size — and once those are gone, they are gone for good — because Drucker is already moving on to the next fashion.
Whether you are headed to the streets of Manhattan or the gym around the corner, Simply Country Chic Boutique has something to offer. Brands for women include Raemode and the largest selection of Judy Blue Denim in the Tri-County area. For men, she offers Seven Diamonds, Baja Llama and Devil Dog. In addition to clothing, the boutique also carries Hobo handbags and gifts for weddings, baby showers and birthdays. They also boast home accessories like tabletop and wall signs.
At Simply Country Chic Boutique, Drucker's mission is to help her customers look great no matter what they have going on in their lives. She wants them to feel at home by providing a unique, personalized and tailored shopping experience filled with generosity, kindness and everlasting friendship. As Drucker says, "Nothing stands between a girl and her shopping." So, pop on over to meet her and experience the extraordinary blend of dress-it-up so you can dress-it-down style that you won't find anywhere else.
For more information, please visit Instagram @simplycountrychicboutique.
By Sarah Rose