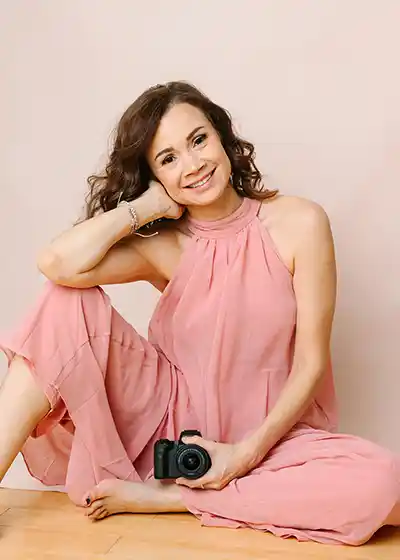 Inspiration From All Angles
Headshots and portraits are key elements for successful ad campaigns or branding one's image. Branding is the promotion of a particular product, company or person by means of advertising and distinctive design.
Stephanie Selby has been practicing photography since 2011 and started professionally in 2018. She specializes in personal branding and headshots for professional women. She also does family photoshoots, newborns, maternity, couples and graduating seniors. Selby said, "To put it simply, I completely fell in love with photography. I wanted to capture everything I saw, all the time. To be able to do that as a career became a quick dream that I wanted to make a reality."
Selby's personal branding and headshot clients use their photos in a variety of ways —from social media platforms such as Facebook, LinkedIn and Instagram, to billboards and signs for real estate agents. Headshots are typically used for professional purposes and help define the clients' professional brand by adding a personal element. Portraits are typically used for personal use, capturing a family or individual essence during a special phase of their lives. These are often proudly displayed on their walls or documented in family photo albums that are passed down from generation to generation. Don't make the false presumption that in this digital age, headshots and portraits are going out of style.
A former counselor, Selby enjoys working with people. The interaction and co-creative process that helps clients find their inner beauty is powerful. Selby isn't a photographer who simply takes photos. She takes her clients on a journey and assists them in building their empires. Her services are comprehensive, saving her clients from feeling any type of pressure within the process. She takes time with each of her clients in advance of the shoot, making sure all their needs are met, while also getting an understanding of their style. Production has become an integral focus for Selby, assisting the client with planning the photoshoot, selecting outfits and getting them properly prepared. Selby offered, "I want the process to be as stress-free as possible. On the day of their session, we offer professional hair and makeup. Each photoshoot I do is custom to that specific client's wants and needs." Personal care is what sets Selby apart from other Charleston photographers.
When Selby isn't taking photos, she's spending time with her lovely sons, taking deep dives into true crime series and meeting people in the city. What's next for Selby and her career? "I want to continue chasing my dream of being a photographer and photographing all different types of people. I am looking to expand my business and hopefully soon bring on an associate photographer." Selby's advice for women in business is "never stop educating yourself, have great mentors and network, network, network." These are key ingredients to a bright and prosperous future.
For more information, please visit StephanieSelbyPhotography.com, or call 843-323-7953.
By Maurice J. Frazier
Read More:
Obsessively Engaged Charleston Photographer