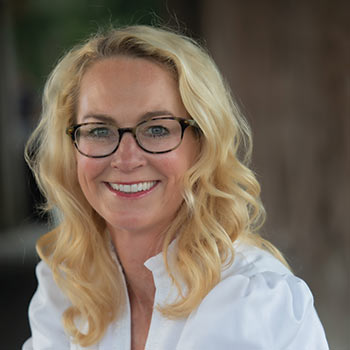 "Travel changes you. As you move through this life and this world, you change things slightly, you leave marks behind, however large or small. And in return, life — and travel — leaves marks on you."
-Anthony Bourdain
After living all over the country and abroad, there was no telling where Holly Culp would eventually lay roots. With its sparkling waterways, historic charm and endless hidden treasures, it's no wonder Holly and her husband Michael ended up in the Lowcountry.
Holly fell in love with real estate at a young age since her family moved frequently. Her 17 years of experience in Charleston-area real estate, coupled with her sense of adventure, are some reasons why she has found such success. She has especially made her mark in high-end waterfront homes. Holly has been recognized as first out of hundreds of agents in the Agent Owned Realty company. She has been awarded the Charleston Realtor of Distinction and ranks among the top 3% all time in sales in the Charleston MLS. Her sales amount to more than $200 million.
"My husband and I are more like a boutique real estate agency," she said. "We handle every single detail with our clients from the beginning, to the closing and long after. We often become lifelong friends with our clients. We know it can be a stressful experience, and that is why we handle everything — to make it as seamless as possible for our client. Having lots of experience in every situation also pays off when some of the deals get more difficult. Like any industry, our experience pays off for our clients."
Michael and Holly have personally owned and built many homes in the area. They have lived on a golf course, on a deep-water lot and now on the beach.
"Being hands-on is helpful to people, so they know they can trust and count on you," Holly said. "When inspection comes back negotiating, repairs, re-inspections and everything in between, people appreciate when you can handle the details with minimal stress on the homeowner."
When Holly and her husband aren't helping their clients, they're exploring Charleston's waterways. They enjoy boating and relaxing on the beach with their daughters. The sense of adventure hasn't left Holly after traveling the country. The Culps go on trips throughout the year to give their kids the experience of different cultures. However, they always come home to the waters of the Lowcountry.
As longtime residents know, each community in the area has unique features. Holly's specialty shines in deepwater and waterfront property, although she has sold anything from a first-time buyer home to a multimillion-dollar mansion.
"If you're a boater, then you need a deep-water dock and at least two-to-three feet of water at low tide, '' Holly explained. "We often take clients out on the boat to look at the creeks they're thinking about. It's more than just a pretty view; it's a lifestyle."
Whether you're in the market to buy or sell, free resources are available at CulpRealEstate.com. If you're ready to dive into a property today, send an email to holly@ culprealestate.com.
For more information, visit CulpRealEstate.com, or call 843-270-2586.
By Deborah Sledziona
Read More:
Holly Culp: Growing Success