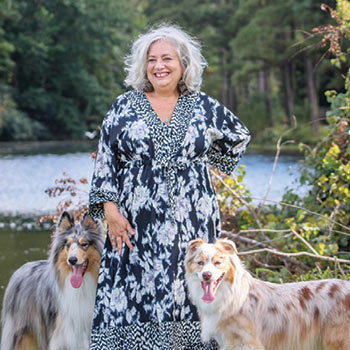 We all know the three most important words in the real estate industry are location, location, location. However, what many may not know is just how important it is to have an experienced, knowledgeable and wisely aggressive Realtor to get you to your goal, whether buying or selling. The dream home, or dream of getting top dollar for your home, can be achieved with a savvy agent.
Deborah "Zelda" Bryant, licensed as an agent in 2001,has been bringing her core values, latest industry knowledge, negotiating skills and proven success rate to residential real estate for more than 20 years.
Detailed-oriented and excellent at problem-solving, the founder of Bryant Real Estate Group has incorporated more than 40 years of experience in both financial sales and contract negotiations to ensure that her clients are receiving the best guidance from sales to closing. Her insight into current property prices and familiarity with both Mount Pleasant and surrounding Charleston markets keep her clients confident. She will get you top dollar for your home, and she will find the home you're searching for, even if not on MLS (Multiple Listing Service).
Born in Poughkeepsie, New York, Bryant has traveled and lived in many parts of the country. She has also traveled or lived in Europe, Canada and Asia. Hamlin Plantation in Mount Pleasant has been home since 2005. Her nomadic experiences have taught her a lot about not only various real-estate markets, but how to relate to all kinds of people.
Commenting on the importance of establishing and maintaining relationships, Bryant relayed, "Maya Angelou once said, 'I've learned that making a living is not the same thing as making a life.' For me, that means that my clients become family. I take great care of them, their interests, and their dreams. It's a great work-life philosophy that blends work into a deeper life experience."
Bryant is also highly knowledgeable and can help even the seasoned buyer avoid common pitfalls.
She said, "Most people love a home that has already been renovated, but there are often gaps in the updating that isn't obvious at first, and those can include needed replacements or updates of the HVAC, plumbing, electrical systems or ductwork. Don't shy away from a home that needs work or upgrading. If the home is in a desirable area and has good bones, it's better to oversee the work yourself alongside a licensed contractor and verify every issue is addressed correctly."
When she isn't helping others realize their residential dreams, Bryant likes to have a little fun of her own. An experienced investor, she enjoys buying property for long-term investments. Bryant said, "For fun, I love buying a property that needs work and renovating it. The transformation of a property with deferred maintenance or outdated designs turning into something beautiful is very satisfying. I'm currently working on two real estate investment projects: one in Mount Pleasant and a waterfront property in Lake Lure, North Carolina."
When Bryant is not working hard, you might find her walking her two dogs: Smokey, a collie, and Ruby, an Australian Shepherd, around Hamlin Plantation, Shem Creek or the Pitt Street Bridge. Stop and say hi!
For more information, call 843-330-7507, or visit BryantRealEstateGroup.com or ClientsLoveZelda.com.
By Eileen Casey
READ MORE
Zelda Bryant: Authentic Participation with Thankful Clients
Zelda Bryant, Buying a Home is Central to the Lives of Buyers